Howdy and welcome to Oregon Jazz Central.
Contact Me
Window Jazz:
Welcome to Oregon Jazz Central. On today's program we are going to take a look at some of the performers at the Portland Jazz Festival in case you may want to head that way. Links to all of these performances can be found at OregonJazzCentral.com. And today - I'm introducing a periodic feature called Window Jazz.
Window Jazz
This is Window Jazz, an periodic feature here at Oregon Jazz Central that is a closer look int the who, what when, where, why and how of Jazz.
Art Abrams interview with Bob Riddle
Today on Window Jazz, the comments of Art Abrams. He is performing on February 20 with singer Kurt Elling in a show called Elling Swings Sinatra with the Art Abrams Swing Machine. In this short segment he talks about the show, Kurt Elling and his band. The interviewer is Bob Riddle. You can hear the full interview on Art's blog - a link to which you will find on OregonJazzCentral.com. The Art Abrams Swing Machine will perform September Song from The First One.
That will be followed by Kurt Elling and Nature Boy from his record The Messenger. Then imagine them working together in much the same way Frank Sinatra and the Count Basie's Big Band interacted at the Sands Hotel in Las Vegas in the early 1960s - the model for this upcoming Portland Jazz Festival show.
Art Abrams Swing Machine
The First One
20 February 2015 7:00 PM
image source
internet fair use low res by Shawn Kirkeby
The Messenger
20 February 2015 7:00 PM
"A Night Tunisia"
20 February 2015 4:00 PM
Venue: Hilton Executive Tower @ The Porto Terra Lounge
image source
internet fair use low res
That was A Night in Tunisia performed by Ramsey Embick - a keyboard player who is from Salem, educated at Berklee School of Music in Boston and instead of being lured to New York, he spent time in Southern California before returning to the Portland in 1991. He performs February 20th with Michalangala.
Ahead of that was Kurt Elling and the classic "Nature Boy" interpreted with his signature vocal prowess. And that... was preceded by the Art Abrams Swing Machine Big Band and one called September Song from their album The First One. They also perform on February 20 later in the evening recreating with charts from the day the epic sounds of Frank Sinatra and Count Basie at the Las Vegas Sands Hotel in the early 60s.
Blues in the Closet
Stardust
image source
internet fair use low res
Dan Balmer
"Venus"
Go By Train
image source
internet fair use low res
That was Dan Balmer on Guitar and one called Venus from their album Go By Train. He is performing on February 21 with the band that we heard here with Clay Giberson on keyboard and Micah Kassell on drums.
Before that Ron Carter and Blues in the Closet. He appears on over 2000 records has worked with B.B. King, Cannonball Adderley, Miles Davis. He was Artistic Director of the Thelonious Monk Institute of Jazz Studies, and is a Juilliard School faculty member.
Christian McBride
"In A Hurry"
21 February 2015 7:00 PM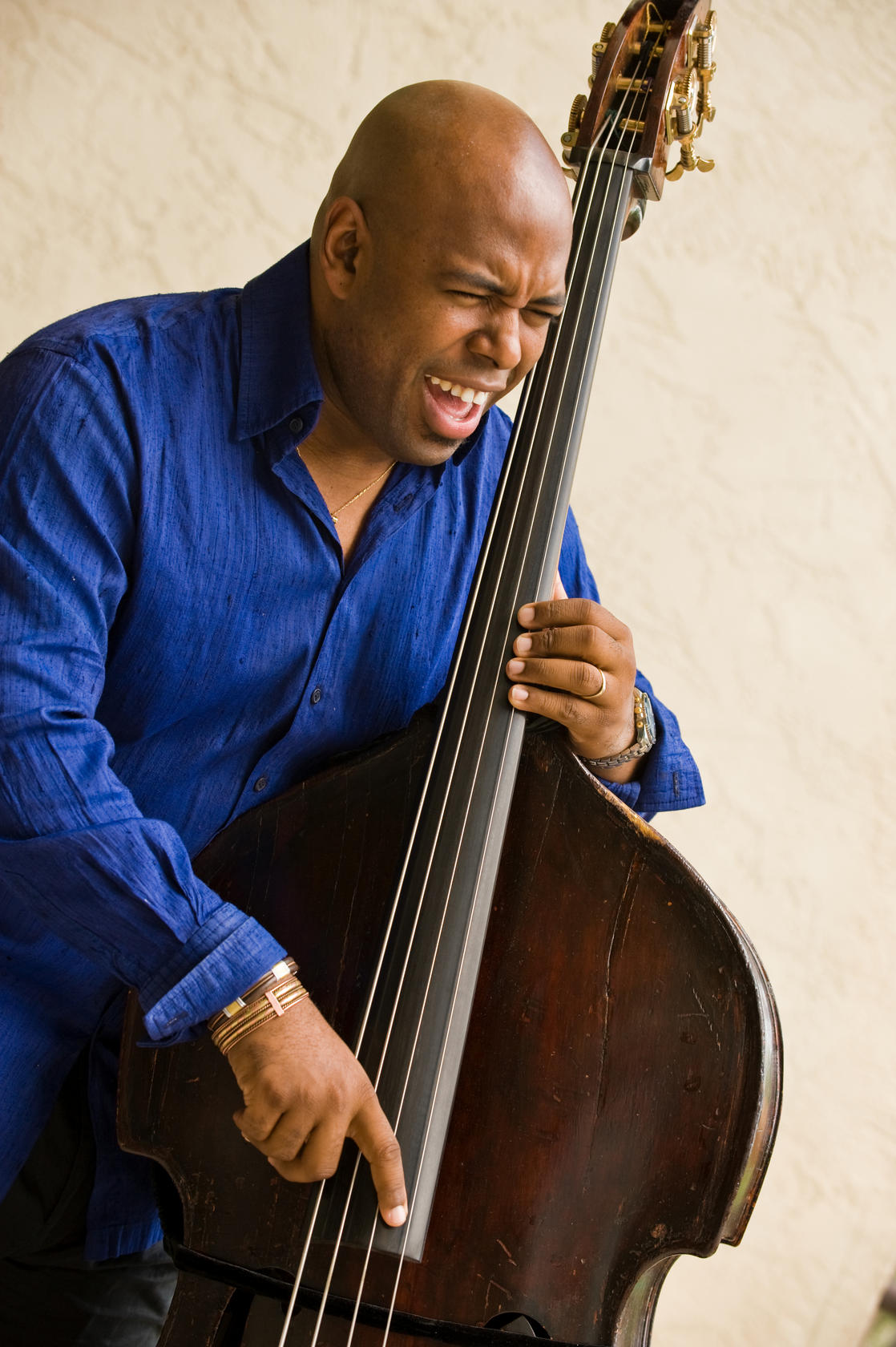 image source
internet fair use low res
21 February 2015 10:00 PM
image source
internet fair use low res
22 February 2015 3:00 PM
image source
internet fair use low res
image source
internet fair use low res
That was Lee Konitz who is known for taking the saxophone to new places away from that of Charlie Parker's Sound in the 40s. He had a great impact on jazz, especially the evolution of cool music in his 65 year recording career. He played with the Miles Davis Nonet on Birth of Cool. His subsequent collaborations with Charles Mingus, Ornette Coleman and Dave Brubeck were wonderfully innovative. He is performing February 22nd.
Ahead of that was the pianist Bill Charlap with one called Blue Skies. He is performing on February 21st. He was born in New York and over the years has played with everyone from Tony Bennett to Wynton Marsalis. He will be dong work of Frank Sinatra in honor of his 100th birthday too with songs from Frank's classic 50s Capitol Records catalogue.
And at the top of the set Christian McBride and In A Hurry. He will perform with legendary Lou Donaldson who is known for his bop, funk, soul-jazz and hard bop on February 21. Christian McBride is a bass player who has brought the energy of the next generation while remaining connected to his Roots and by that I mean the band. He has worked with Sting, in big band settings and honed his chops in New York with the likes of Bobby Watson, Chick Corea, Freddie Hubbard, Sonny Rollins and Herbie Hancock. Here is In A Hurry, by Christian McBride.
If you are hearing this on Saturday, I will be at the Sisters Library on Sunday, attending the...
Diane Jacobsen Speaker Series
Sisters Library Community Room


Sponsored by Friends of the Sisters Library
This week's lecture given by Fine Art Photographer, Gary Albertson. Gary's photographs are a signature part of the Oregon Jazz Central website. His Journey Into Blindness is a fascinating examination of how this gifted photographer harnesses his intellect and continues to shoot great art. He will describe his methods, display some tools and there will be a brief slideshow of his photographs.
Finally today, a couple non jazz festival works, the first from an artist who performed at the Belfry in Sisters recently named Casey Abrams, no relation to Art Abrams from whom we heard at the top of today's show. He is off in Europe now and if you would like more information you can see an article in the Nugget Newspaper. Here, he performs with Haley Reinhart the classic jazz rhythm and blues classic Hit The Road Jack by Ray Charles. and then one by Singer Vanessa Rubin and love for sale.
image source
internet fair use low res
"Love For Sale"
image source
internet fair use low res