Today's show is dedicated to the late Kelsey Collins. Peace.
http://kelseycollins.podbean.com
Kelsey Collins
Facebook
Howdy and welcome to Oregon Jazz Central.
Contact Me
April in Paris
Our Shining Hour
4679
It's impossible in the space allotted to do more than scratch the surface of one of showbiz's all time greats. Thankfully, Sammy Davis Jr left no fewer than three detailed accounts of life at the top. 'Yes I Can' (1965) and 'Life In A Suitcase' (1980) were followed by 'Why Me', published the year before his death. All are required reading.
He owed his early start to his parents, vaudeville star Sammy Davis Sr and Puerto Rican 'Baby Sanchez, who performed with the youngsters adopted uncle, Will Mastin, in his act 'Holiday In Dixieland'. But Sammy Jr soon became the star of the show as the newly rechristened 'Will Mastin's Gang, Featuring Little Sammy' acknowledged. When the authorities forbade him to appear, so legend has it his father shrugged his shoulders, gave his son a rubber cigar and billed him as a 'dancing midget'. (source:
http://www.sammydavis-jr.com/
)
Benny Carter
Just In Time
Bennett Lester "Benny" Carter (August 8, 1907 – July 12, 2003) was an American
jazz
alto saxophonist, clarinetist, trumpeter, composer, arranger, and bandleader. He was a major figure in jazz from the 1930s to the 1990s, and was recognized as such by other jazz musicians who called him King. In 1958, he performed with
Billie Holiday
at the
Monterey Jazz Festival
.
The
National Endowment for the Arts
honored Benny Carter with its highest honor in jazz, the
NEA Jazz Masters
Award for 1986.
[1]
He was awarded the
Grammy Lifetime Achievement Award
in 1987, and both won a
Grammy Award
for his solo "Prelude to a Kiss" and received a star on the
Hollywood Walk of Fame
in 1994.
[2]
In 2000 awarded the
National Endowment for the Arts
,
National Medal of Arts
, presented by President
Bill Clinton
.
[3]
[4]
(source: wikipedia)
Billie Holiday
Keeps on A-Rainin'
Billie Holiday was a true artist of her day and rose as a social phenomenon in the 1950s. Her soulful, unique singing voice and her ability to boldly turn any material that she confronted into her own music made her a superstar of her time. Today, Holiday is remembered for her masterpieces, creativity and vivacity, as many of Holiday's songs are as well known today as they were decades ago. Holiday's poignant voice is still considered to be one of the greatest jazz voices of all time. (source:
http://www.billieholiday.com)
Antonio Carlos Jobim
God and the Devil in the Land of the Sun
Stone Flower
It has been said that
Antonio Carlos Brasileiro de Almeida Jobim
was the
George Gershwin
of Brazil, and there is a solid ring of truth in that, for both contributed large bodies of songs to the jazz repertoire, both expanded their reach into the concert hall, and both tend to symbolize their countries in the eyes of the rest of the world. With their gracefully urbane, sensuously aching melodies and harmonies,
Jobim
's songs gave jazz musicians in the 1960s a quiet, strikingly original alternative to their traditional Tin Pan Alley source.
Jobim
's roots were always planted firmly in jazz; the records of
Gerry Mulligan
,
Chet Baker
,
Barney Kessel
, and other West Coast jazz musicians made an enormous impact upon him in the 1950s. But he also claimed that the French impressionist composer
Claude Debussy
had a decisive influence upon his harmonies, and the Brazilian samba gave his music a uniquely exotic rhythmic underpinning. As a pianist, he usually kept things simple and melodically to the point with a touch that reminds some of
Claude Thornhill
, but some of his records show that he could also stretch out when given room. His guitar was limited mostly to gentle strumming of the syncopated rhythms, and he sang in a modest, slightly hoarse yet often hauntingly emotional manner.
Born in the Tijuca neighborhood of Rio,
Jobim
originally was headed for a career as an architect. Yet by the time he turned 20, the lure of music was too powerful, and so he started playing piano in nightclubs and working in recording studios. He made his first record in 1954 backing singer Bill Farr as the leader of "Tom and His Band" (Tom was
Jobim
's lifelong nickname), and he first found fame in 1956 when he teamed up with poet
Vinícius de Moraes
to provide part of the score for a play called Orfeo do Carnaval (later made into the famous film Black Orpheus). In 1958, the then-unknown Brazilian singer
João Gilberto
recorded some of
Jobim
's songs, which had the effect of launching the phenomenon known as bossa nova.
Jobim
's breakthrough outside Brazil occurred in 1962 when
Stan Getz
and
Charlie Byrd
scored a surprise hit with his tune "Desafinado" (source: wikipedia)
Gary Burton
Move
http://www.garyburton.com
Born in 1943 and raised in Indiana, Gary Burton taught himself to play the vibraphone and, at the age of 17, made his recording debut in Nashville, Tennessee, with guitarists Hank Garland and Chet Atkins. Two years later, Burton left his studies at Berklee College of Music to join George Shearing and subsequently Stan Getz, with whom he worked from 1964-1966.
Harry Connick, Jr.
Stompin' at the Savoy
http://www.harryconnickjr.com
image source - npr
Joseph Harry Fowler Connick, Jr.
[1]
(born September 11, 1967)
[1]
is an American singer, musician and actor. He has sold over 28 million albums worldwide.
[2]
Connick is ranked among the top 60
best-selling
male artists in the United States by the
Recording Industry Association of America
, with 16 million in
certified
sales.
[3]
He has had seven top 20 US albums, and ten number-one US jazz albums, earning more number-one albums than any other artist in US jazz chart history.
[4]
Rosario Giuliani
Road Song
http://www.rosariogiuliani.com
Start from young the study of the alto saxophone in the Corps band "City of Terracina" and graduated in
1987
at the
Conservatory Licinio Refice
of
Frosinone
. In
1989
participates in the courses of the Berklee College of Music organized in the framework of the festival
Umbria Jazz
. In
1990
is introduced by
Rai
in the orchestra of the "Young talents of European jazz" organized for a concert held in Rome, to '
Auditorium of the Foro Italico
, under the direction of
James Newton
. In subsequent years, collaborated on engraving of movie soundtracks with internationally renowned masters such as
Ennio Morricone
,
Luis Bacalov
,
Armando Trovajoli
,
Nicola Piovani
,
Riz Ortolani
.
Cal Tjader | Charlie Byrd
Tambu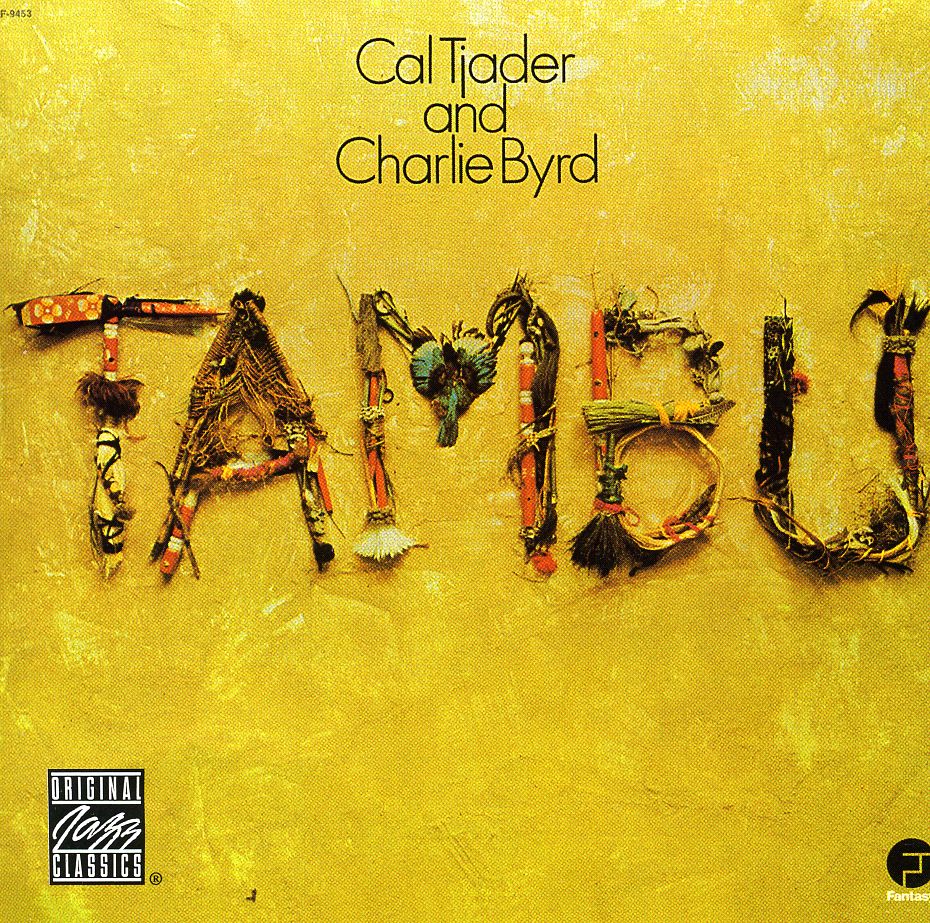 Still trying to stay in tune with the Seventies,
Cal Tjader
joins forces with another refugee from another time, guitarist
Charlie Byrd
, for an album of contemporary Brazilian-flavored jazz. The alliance is forged mostly on
Byrd's
terms, with bossa nova, samba and percussive displays from Brazil's interior dominating the grooves. This time, after proving very adaptable to previous experiments,
Tjader
seems to be out in the cold in these settings, and he lays out a lot more often than usual on this album.
Byrd
rides along in his gentle, prickly-toned manner on acoustic and electric guitars, and the rhythm section shifts personnel and instruments from track to track. Yet oddly enough, this is still a musically rich feast. Electric pianist Mike Wolff's "Samba de Oneida" is a marvelously propulsive samba, and "Tereza My Love," one of
Antonio Carlos Jobim's
most attractive sleepers, is given a lovely rendition. The title track, written by
Airto Moreira
, is given an authentic, rambunctious
Airto
-style treatment, very much up-to-date, but
Cal
doesn't sound totally comfortable with the rhythm on vibes, spending most of his time on timbales. Even though this isn't
Nat King Cole
Route 66
Nathaniel Adams Coles (March 17, 1919 – February 15, 1965), known professionally as Nat King Cole, was an American singer who first came to prominence as a leading
jazz pianist
. He was widely noted for his soft,
baritone
voice, which he used to perform in
big band
and jazz genres.
Cole was one of the first African Americans to host a television
variety show
, The Nat King Cole Show, and has maintained worldwide popularity since his death from
lung cancer
in February 1965.
Ahmad Jamal - AVO Crystal
http://www.ahmadjamal.net
In 1964, Jamal resumed touring and recording,[
disambiguation needed
] this time with the bassist
Jamil Nasser
and recorded a new album, Extensions, in 1965. Jamal and Nasser continued to play and record together from 1964 to 1972. He also joined forces with Fournier (again, but only for about a year) and drummer
Frank Gant
(1966–76), among others. He continued to play throughout the 1970s and 1980s, mostly in trios with piano, bass and drums, but he occasionally expanded the group to include guitar. One of his most long-standing gigs was as the band for the
New Year's Eve
celebrations at Blues Alley in
Washington, D.C.
from 1979 through the 1990s.
[7]
Until 1970, he played acoustic piano exclusively. The final album on which he played acoustic piano in the regular sequence was
The Awakening
. In the 1970s, he played electric piano as well. It was rumoured that the Rhodes piano was a gift from someone in Switzerland.
In 1985, Jamal agreed to do an interview and recording session with his fellow jazz pianist,
Marian McPartland
on her
NPR
show "Piano Jazz." Jamal, who said he rarely plays "But Not For Me" due to its unrivaled popularity since his 1958 recording, played an improvised version of the tune – though only after noting that he has moved on to making ninety percent of his repertoire his own compositions. He said that when he grew in popularity from the Live at the Pershing album, he was severely criticized afterwards for not playing any of his own compositions.
[10]
Jean-Luc Ponty - The Story Teller
http://www.ponty.com
Ponty was born into a family of classical musicians on 29 September, 1942 in
Avranches
, France. His father taught violin, his mother taught piano. At sixteen, he was admitted to the
Conservatoire National Supérieur de Musique de Paris
, graduating two years later with the institution's highest honor, Premier Prix (first prize). In turn, he was immediately hired by one of the major symphony orchestras,
Concerts Lamoureux
, in which he played for three years.
[1]
While still a member of the orchestra in Paris, Ponty picked up a side gig playing clarinet (which his father had taught him) for a college jazz band that regularly performed at local parties. It proved a life-changing jumping-off point. A growing interest in the jazz sounds of
Miles Davis
and
John Coltrane
compelled him to take up the
tenor saxopho
Abbey Lincoln
Blackberry Blossoms
Lincoln was one of many singers influenced by
Billie Holiday
. She often visited the
Blue Note
jazz club in
New York City
.
[2]
Her debut album, Abbey Lincoln's Affair – A Story of a Girl in Love, was followed by a series of albums for
Riverside Records
. In 1960 she sang on
Max Roach
's landmark
civil rights
-themed recording,
We Insist!
[3]
Lincoln's lyrics were often connected to the
civil rights movement
in America.