Howdy and welcome to Oregon Jazz Central. Contact Me
Jerry Lewis' take on the Count Basie standard "Cute"
Paris 1960
Jeannine
Review by Richard S. Ginell
Norman Granz
was on hand to record music from
Cannonball Adderley's
first European tour in 1960, but he and the
Adderley
estate have been parsimonious in dealing out the goods. It took 24 years for Part One,
What Is This Thing Called Soul
to emerge, and another 13 years passed before this follow-up album came out. But better late than never, as they say, and the reward is hearing
Cannonball's
alto in full ecstatic flight, lots of fighting work from brother
Nat
on cornet and the prized rhythm section of
Victor Feldman
(piano),
Sam Jones
(bass) and
Louis Hayes
(drums) in a state of complete rapport. Only "The Chant" is duplicated from the earlier album, and
Cannonball's
solo is a model of
Parker
-derived hard bop laced with his own highly rhythmic personality. Other than an overlong drum solo on "Bohemia After Dark," this is a most enjoyable slice of what, alas, is now history. (allmusic.com)
Pancho Sanchez
Conga Blue
Conga player
Poncho Sanchez
has been one of the leaders in Latin jazz for a decade. This outstanding studio recording delivers the excitement with the addition of special guest
Mongo Santamaria
on "Watermelon Man" and several originals. Great solos by trumpeter
Stan "Be Bop" Martin
and baritone saxophonist
Scott Martin
add spice to the lively percussion of
Sanchez
and his group.
(allmusic.com)
BACK ANNOUNCE 1
INTRODUCE 2
Benny Golson
"St. Thomas"
Tenor Legacy
Review by Scott Yanow
On this enjoyable set, veteran tenor saxophonist
Benny Golson
pays tribute to nine other tenors:
Lester Young
,
Coleman Hawkins
,
Sonny Rollins
,
Dexter Gordon
,
John Coltrane
,
Stan Getz
,
Zoot Sims
,
Ben Webster
, and
Don Byas
. On "Body & Soul,"
Branford Marsalis
joins
Golson
, three songs have
James Carter
making the quartet a two-tenor quintet,
Harold Ashby
is on four others, "Lester Leaps In" has
Golson
interacting with both
Carter
and
Ashby
, and
Golson
is the only tenor on the closing "In Memory Of." While each of the saxophonists is in fine form,
Carter
's fiery style is a perfect contrast to
Golson
's cooler but explorative playing. With pianist
Geoff Keezer
, bassist
Dwayne Burno
, and drummer
Joe Farnsworth
swinging the tunes (all but "In Memory Of" are standards),
Golson
sounds quite inspired by the settings. This is one of his strongest all-round sessions of the 1990s. (allmusic.com)
SAC UNDERWRITING
Eric Reed
Blues For Akmad
— STATION ID
Annie Ross - Twisted 3956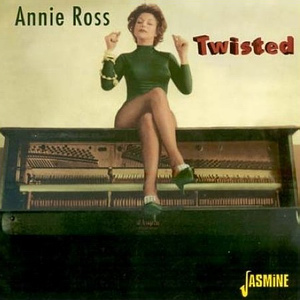 Joni Mitchell covered this in 1974 on Court and Spark.
"Twisted" is a whimsical account of the protagonist's insanity that satirises
psychoanalysis
.
[1]
[2]
In 1952, Ross met
Prestige Records
owner
Bob Weinstock
, who asked her to write lyrics to a jazz solo, in a similar way to
King Pleasure
, a practice that would later be known as
vocalese
. The next day, she presented him with "Twisted", a treatment of saxophonist
Wardell Gray
's 1949 composition of the same name, a classic example of the genre.
[3]
[4]
[5]
She later said of the inspiration for the song:
The title was infinite possibilities. You could marry anything to it and it was the name signified, "Twisted." And it just occurred to me that it would be good as a kind of song about an analyst.
[3]
The song, first released on the 1952 album King Pleasure Sings/Annie Ross Sings, was an underground hit, and resulted in her winning
Down Beat
's New Star award.
[4]
[6]
[7]
Ross released a second version with the vocalese trio
Lambert, Hendricks & Ross
on their
1960 self-titled album
, also known as The Hottest New Group In Jazz;
Gramophone
described that recording as "more lighthearted, perhaps a little more individual" than Ross' first release of the song.
[8]
(wikipedia)
— BACK ANNOUNCE 2
— INTRODUCE 3
Count Basie
Cute
SOME ARRANGERS SEEM made to order for certain bands. Don Redman and Benny Carter and Horace Henderson fitted a variety of organizations in the twenties and thirties in this way. Billy Strayhorn was obviously born to write for the Duke Ellington band as Sy Oliver was to write for Jimmie Lunceford and Fletcher Henderson for Benny Goodman. And now it seems that Neal Hefti has found his ban in Count Basie and Count his composer and arranger in Neal.
(allmusic.com)
— SHOW ID
Mel Brown - Patrick Lamb
You Are My Sunshine
— SAC UNDERWRITING
Joey DeFrancesco
Impressions
Review by Scott Yanow
Organist
Joey DeFrancesco
clearly had a good time during this jam session. His fine quintet (which has strong soloists in altoist
Robert Landham
, trumpeter
Jim Henry
, and especially guitarist
Paul Bollenback
) starts things off with a run-through of "rhythm changes" during "The Eternal One" and the hornless trio cuts loose on a swinging "I'll Remember April," but otherwise all of the other selections feature guests. Tenors
Illinois Jacquet
,
Grover Washington, Jr.
,
Houston Person
, and
Kirk Whalum
all fare well on separate numbers (
Jacquet
steals the show on "All of Me"), and on the closing blues
DeFrancesco
interacts with fellow organist
Captain Jack McDuff
. Few surprises occur overall (the tenors should have all played together), but the music is quite pleasing and easily recommended to
DeFrancesco
's fans.
(allmusic.com)
— BACK ANNOUNCE 3
— INTRODUCE 4
Johnny Addams - One Foot In The Blues