Howdy and welcome to Oregon Jazz Central Contact Me


João Gilberto - Desafinado
Desafinado", a Portuguese word (usually rendered into English as "Out of Tune", or as "Off Key"), is the title of a
bossa nova
song composed by
Antonio Carlos Jobim
with lyrics (in Portuguese) by
Newton Mendonça
. The English language lyrics were written by
Jon Hendricks
and "Jessie Cavanaugh" (a
pseudonym
used by
The Richmond Organisation
). Another English lyric, more closely based on the original Portuguese lyric (but not a translation) was written by
Gene Lees
, and appears on some recordings as well. The version by
Stan Getz
and
Charlie Byrd
(from the album
Jazz Samba
) was a major hit in 1962, reaching #15 and #4 on Billboard's pop and easy-listening charts, respectively; their definitive rendering also reached #11 in the UK, whilst Ella Fitzgerald's version made #38.
[1]
The song was voted by the Brazilian edition of
Rolling Stone
as the 14th greatest Brazilian song.
[2]
Horace Silver 07 Home Cookin'
David Grisman - Stéphane Grappelli - Shine
Stephane Grappelli/David Grisman Live is album by musicians
David Grisman
and
Stephane Grappelli
, released in 1981. It was recorded live on September 20, 1979 at Berklee center, Boston.
Dan Barrett - C'est Si Bon
With a hand picked group of musicians, trombonist and arranger Dan Barrett's Blue Swing debuts an outstanding swing band with the ever charming Rebecca Kilgore on vocals. Barrett has become a bit of a blue chip presence in the swing music world. Not only is he an excellent trombonist, but he is also a consistently interesting arranger with a sense of style.
Rebecca Kilgore is in top form on "Can This Be Love?" She is silky sweet. She also does a good job with the corny lyrics of "Christopher Columbus." Her weakness for the slight and cute seems to have descended to new levels with Leiber & Stoller's "Love Potion #9" and Laura Nyro's "Wedding Bell Blues." At times, it seems this tremendously talented jazz singer is intent on singing high wire acts above the most dubious material. With an unerring sense of phrasing and rhythm, it is always a perverse thrill of sorts to hear her pull the rabbit out of the hat - she consistently does, high wire and all. The band accompanies Kilgore beautifully.
It is also known as "Interlude",
[2]
under which title it was recorded (with lyrics) by
Sarah Vaughan
(from the EP "
Hot Jazz
", 1953) and
Anita O'Day
. Gillespie himself called the tune "Night in Tunisia", although the song is usually titled "A Night in
Tunisia
". It appears as the title track of 30 CDs and is included in over 500 currently available CDs. In January 2004, The Recording Academy added the Dizzy Gillespie & his Sextet's 1946 Victor recording to its
Grammy Hall of Fame
.
Charlie Shoemake - South of the Border
For the life of me I have no idea why Charlie Shoemake isn't a household name. He's easily one of the finest jazz vibists around and yet he's largely unknown. He loves melody and harmony and, most of all, he swings. Maybe it's because he doesn't have a Wiki page or a website. Or because his last name looks like a letter is missing. Or because none of his albums are available as downloads. Who knows—lots of greats slip through the cracks. [Pictured above: Charlie Shoemake with drummer Dick Berk, c. late 1970s courtesy of
Ted Greene]
Papa John DeFrancesco - Jumpin'
Bud Powell - Just One of Those Things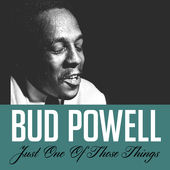 The Genius of Bud Powell, originally titled Bud Powell's Moods, is a studio album by
jazz pianist
Bud Powell
, released in 1956 by
Mercury
/
Clef
, featuring two sessions that Powell recorded in 1950 and 1951.
Art Abrams - Besamé Mucho